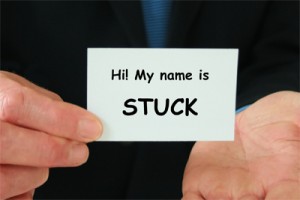 I've spent the last few weeks (okay, months) working on my web site redesign. I haven't linked to it here, cuz it isn't finished. I keep getting Stuck.
At first I thought the culprits were picking just the right colors and crafting the perfect design and figuring out what to write and making the bells and whistles work. And yes those are parts of the Stuck, but not the root of it.
The root of the Stuck is it's scary.
It's scary because I have to figure out (and tell other people!) what I'm doing.
Why have a web site? What's its purpose? What's my purpose? What's my vision?  Just what (insert spinsterish inner critic voice here) am I trying to accomplish? (Thank goodness, I didn't ask myself these questions before starting this blog!)
Working on my web site forces me to think about my music, my art, my music as art (huh?), my purpose, my goals, my plan. Ugh, I haven't figured all of that out yet.
Sarah, meet Stuck.
…
Stuck, meet my friend, Improvisation.
So … once I realized I was dealing with Stuck, I asked myself … "When I get stuck in an improv, what do I do?"
Get quiet and listen
Remain calm and take the time I need
Try out different ideas
Trust my intuition and instincts
Say the thing I'm thinking (even if it doesn't connect/make sense)
Start – sometimes it's okay to find the destination along the way
Keep it simple
…
I'm happy to report that I'm less Stuck. I asked my questions and I have an answer.
I'm going to the change the world by singing.
Okay, so I haven't figured out how I'm going to do it just yet. And, I don't know how far reaching or to what scale the changes will be. I do know it has a lot to do with vocal improvisation, teaching, sharing what I'm learning, connecting and creating communities. That's more than enough to start.
15 Responses to "Sarah, Meet Stuck"
Hey sweetie,
I'm happy to see this post. Sounds as though it was helpful to you, and I suspect it will be helpful to many other people struggling to fulfill what feels like a life's calling. Just know that I'm thinking about you, sending you good creative energy. Stay healthy and happy and strong. I love you.

XOXOXOXOX,
ym

30 Jan 2009 at 12:42 pm

Thanks, mom (c;

sg

07 Feb 2009 at 1:15 am

Oh Sarah! This is so beautiful! I'm so glad you are going to change the world by singing!!! I believe you will. And I agree that it has a LOT to do with vocal improv, teaching, sharing, and connecting. I look forward to exchanging visions!

02 Feb 2009 at 8:13 pm

Thanks for the support, Jayney — can't wait to catch up with you this weekend and talk more improv!

sg

07 Feb 2009 at 1:13 am

[…] road to launching was a long one. Along the way, I met Stuck (and its friends Resistance, Perfectionism and […]

16 Feb 2009 at 1:04 pm

I've struggled for the last maybe 15 years with wondering if what I did musically made any sense at all. I've never heard anyone speak of vocal improv before. It's exactly what I do.
I'm not an extremely vocal person as a rule. My words are few but I think meaningful. We were doing an exercise in a group that I attend and in my writing came these words:

"She loved to sing from an unknown place. Creating melodies understood by every nation. She was not just another voice, she touched the hearts of her listeners.You could feel her passion."

That's how I want people to see me and remember me.

I would love to hear more of your journey. Thank you for writing this post. It made me feel like I'm not alone (or crazy!)
Cheri

05 Apr 2009 at 6:45 pm

Thank YOU for reading! I'm glad you found this post useful. If I can help others get in touch with the benefits of spontaneous creating, then I'm doing it right. I'll continue to share my process and insights here.

I love your improvised text. Very powerful and great vision for which to strive. I'd love to learn more about your singing.

singingly,
sg

05 Apr 2009 at 7:54 pm

[…] my mailing list for a while now. But, because I haven't designed a newsletter template yet (hello again, Stuck), I haven't been sending a monthly email to my […]

13 Apr 2009 at 1:18 pm

[…] of you remember how much I struggled to redesign my web site. *smile* Finally, I realized that I was challenged by how to present myself and the numerous and […]

27 Apr 2009 at 12:38 pm

[…] stumbled across this test on YouTube (okay, I was sposed to be putting the final touches on my web site redesign … I was taking a little break!) You can take this left-brain/right-brain test by watching the […]

05 Aug 2009 at 9:56 pm

[…] can spend a lot of time making decisions. We get stuck. We procrastinate. We spin round and round, looking for THE ONE PERFECT answer. (Well, I do, […]

05 Oct 2009 at 1:28 am

[…] One word of caution (from someone who knows *smile*); Sometimes you I can talk too much. I get too much input and I think I need to agree with and use it all. (In other words, I get stuck.) […]

25 Oct 2009 at 10:23 pm

[…] One word of caution (from someone who knows *smile*); Sometimes you I can talk too much. I get too much input and I think I need to agree with and use it all. (In other words, I get stuck.) […]

25 Oct 2009 at 10:23 pm

[…] Sarah, Meet Stuck […]

06 Sep 2010 at 3:25 am

[…] Whenever I'm feeling stuck, I go to my improvising experience. […]

28 Sep 2014 at 11:07 pm