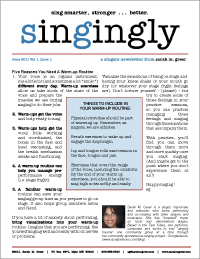 The short story:
I am starting a newsletter for singers.
Click here to join the singingly newsletter list.
…
The long story:
Over 300 posts ago, I launched this blog because I thought I should be writing one. *wry grin*
I imagined sharing singing exercises and vocal technique tips with a growing list of singers, but I was open to "seeing how things went."
In another work of true improvisation, I have been finding my way ever since.
…
Pretty quickly, I moved away from talking about the nuts and bolts of singing.
It turns out what I really wanted to write about here was the power of singing, how I see singing changing the world and my own process of becoming a singer — both as an occupation and an identity.
And, it turns out that my blog readership is bigger and broader than I could have dreamed. You are readers who love to sing, who sing for a living and some who don't really sing at all (although I will keep trying to change that!).
You are singers, teachers, writers, performers, therapists, nurses, entrepreneurs and activists.
I could not have imagined what my blog would become and I am so happy for and grateful to all of you who read it.
…
But …
I really like the nuts and bolts of singing.
(I know some of you do, too. *smile*)
I really like working with singers.
I love helping people figure out how to use this organic instrument.
So.
I am starting a monthly newsletter for people who are interested in reading what I have to say about the technical side of singing.
It will have articles, singing tips, info on classes and workshops and all the other things I know my students (and singer friends!) will want to try out and hear about.
In other words, all the stuff that's a little too singer geeky for the Songtaneous Blog, but too great not to pass on!
(Yep, you have to subscribe. My spam-canning mail program won't let me send you mail you don't ask for. *grin*)
More Bloggity Goodness
One Response to "A Newsletter for Singers"
[…] and in case you missed it, I launched my newsletter for singers on Monday. Click here to get in the […]

23 Jun 2011 at 10:46 pm